How Scan-to-BIM can help in Facility Management?
The world has made its journey from making 2D blueprints of a building to 3D, and enhancing it even further into dimensions where one can jump in and out of the blueprints with the help of Scan-to-BIM.
A walkthrough scenario of a building at your fingertips does sound magical, right? After all, you are literally creating a mini-version of your building on your screen and on top of that, you are exploring with it as if it was a toy-game. Technology sure works wonders!
"In a McKinsey report, a study found that 75% of companies that have adopted BIM reported positive returns on their investment with shorter project life cycles and savings on paperwork and material cohttp://scantobim.aists. In another study, it was found that the impact of BIM on labour productivity was quantified and findings demonstrated a 75% to 240% increase in labour productivity for modelled and prefabricated areas."
Let's break down what Scan-to-BIM is!
BIM stands for Building Information Modelling. It is a practice of developing digital representations of existing conditions of a building. Instead of producing a series of 2D representations, BIM generates a digital database that renders a building in three dimensions, allowing design teams, building owners and facility managers to virtually 'walk' through the project.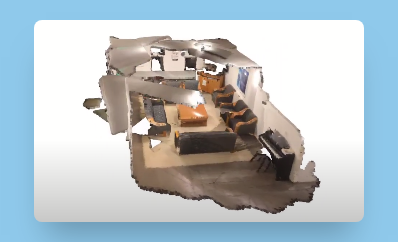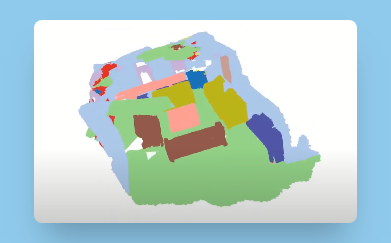 The Scan-to-BIM process provides a vital kick-off for design teams, BIM Managers and Project Managers to iterate their designs and subsequently manage, coordinate and share all project information.
To give you an insight, let's go through a quick case analysis from the healthcare industry, and how BIM is being utilized by facility managers to provide a better and beneficial outcome.
As you know, BIM provides a building's as-built record, accurately portraying its true measurements after any alterations to the original designs. With that accurate data comes an exact understanding of how a building's space is being used. To give you an example, in the healthcare industry, this kind of information can be critical for reimbursements from federal agencies. Hospitals in North America are required to report the sizes of their departments to reflect how many people they are serving and, thus, how much Medicare reimbursement they receive. Life safety information is also tied to hospital accreditations. So, many hospital owners use BIM to track exit capacities, smoke compartments, suites, and fire ratings.
This same application can be applied in other industries, thus making BIM a necessary model to the facility managers.
Scan-to-BIM's 'FACILITATION' to Facility Managers
BIM provides an accurate representation of a building's as-built record, portraying its true measurements, layouts, etc. And with that accurate data, comes an exact understanding of how the building's space is being used. Thus, making it very valuable information to the facility management.
When it comes to commercial or industrial building's construction, there's a dire requirement of space allocation, asset management, maintenance etc. All of these cannot be solved with mere 2D drawings. A need for more insightful eyes are required, which can show the framework of the project. This is where BIM can come handy to the facility managers!
i) Documenting large and complex corners Scan-to-BIM allows Facility Managers to quickly capture highly complex as-built geometry of building and project sites, as well as their assets such as power components, machinery, pipe works etc.
ii) Lowering costs and reduce project risks Scan-to-BIM provides Facility Managers with accurate documentation of facility inventory in every stage of the life cycle, thus reducing the cost in an overall run of the project. Amongst other user benefits, by decreased financial and schedule project risks, continued quality control is maintained due to the verification of data that complies with safety regulations.
iii) Structuring data Scan-to-BIM supports Facility Managers by structuring building data per specific requirements and conditions. The software helps to construct rooms and provide building assignments of elements such as windows, doors, staircases, etc.
By gathering vital information from 3D scanning and converting them onto BIM's database, Facility Management can map out and anticipate issues, accounting for resourcefulness. Similarly, should the facility need a new type of technology or equipment to be installed, BIM can help determine exactly where it should go and how it can be integrated into the current layout.
A Live Case Study
Before we head out towards reforming the future of construction business, let's take a peek into what's happening in the present world. We will talk about Sydney's Opera House!
Sydney Opera House is one of the most recognised buildings across the world. The Cooperative Research Centre (CRC) for Construction Innovation and the Australian Government's FM Action Agenda chose this iconic symbol as the focus of its Facilities Management (FM) Exemplar Project to develop innovative strategies across three research themes:
Digital Modelling –

developing a building information model capable of integrating information from disparate software systems and hard copy, and combining this with a spatial 3D CAD and GIS platform

Service Procurement –

developing a multi-criteria performance-based procurement framework for FM service delivery

Performance Benchmarking –

developing an FM benchmarking framework that enables facilities to determine key performance indicators (KPIs) to identify best practice and improvement strategies
This project was aimed to demonstrate FM as a business enabler.
Project Investigation:
analysis of FM/AM (facilities management/asset management) systems at Sydney Opera House

analysis of state-of-the-art digital facility models

recommendations for digital modelling for Sydney Opera House

showcasing Sydney Opera House's Digital Modelling BIM
Analysis: Sydney Opera House is a hugely complex structure, housing equipment and equally complex activities. The building comprises seven theatres, 37 plant rooms, 12 lifts, and over 1000 rooms. The building has 300 full-time staff with 500–600 part-time staff, delivering over 1500 performances and 1000 other events each year. Its early spatial layout was a design challenge for the design and construction team, and innovation was a common theme of the eventual technical solution for many aspects of the final design. As a consequence, the traditional hard-copy 2D documentation struggled to adequately describe the work to be constructed as the building's construction, unfortunately, predated the emergence of new technologies.
Key Findings:
After conducting the research, several concerns became evident at the Sydney Opera House:
The building structure was complex and was undergoing technology change, with new computer-based services

The existing documentation of the facility comprised of several disparate and independent systems and was inadequate to service current and future services required

Major building upgrades were being planned that would put considerable strain on existing facilities portfolio services, and their capacity to manage them effectively
Action Taken:
In order to manage an incremental development of building information models, sub-models were created from the master model as administrative data was needed to make changes and track extensions

Using basic administrative labels, the assertion of building information connected to the master model became traceable and consequently more manageable

The master model for Sydney Opera House was based on a geographical reference grid defined as the "Sydney Opera House Plane Grid", and was incorporated on all survey information at Sydney Opera House

Co-ordinated Controlled Survey Network (CCSN) was also established which comprised a set of survey marks throughout the site and buildings concerning this datum. All model's data were calibrated with these survey marks
Outcome:
Sydney Opera House current building standards have been successfully drafted for a BIM environment and are confidently expected to be fully developed when BIM is adopted operationally by Sydney Opera House

There have been remarkably few technical difficulties in converting the House's existing conventions and standards to the new model-based environment. This demonstrates that the IFC model represents world practice for building data representation and management

Sydney Opera House has already implemented data quality checks to improve reliability and synchronisation of data, and this is a good platform for further development

Processes can now be carried out faster and more effectively because the information is more easily shared, and can be value-added and reused
Why Facility Management Should Leverage Scan-to-BIM?
The design procured from Scan-to-BIM is more reliable.
It eliminates frequent site visits. Thus, increasing time availability with the contractor to initiate the planning process and evaluating the project risk.
It facilitates faster decision-making and project alteration.
Sourcing 3D model definitely comes at a cost, but when compared to the traditional 2D survey, it yields significant future savings.
It facilitates transparency, better communication, and foster collaboration.
The Future Is BIM
The biggest advancement in BIM in the last few years is its routine adoption into the design and build processes. Facility Managers now quite often require a BIM workflow to achieve certainty of geometry, leaving little room for discrepancies. With that being said, why not connect with nCircle? Our ML-powered Scan-to-BIM application helps create as-built BIM Models for refurbishment, and renovation projects for architects, retailers, surveyors, and main contractors. Check out our video demonstration on how the Scan-to-BIM framework allows you to follow the general workflow, reducing the cognitive load required for visualization. Learn more about why you should be leveraging nCircle's ML-powered Scan-to-BIM application. Talk to our experts today!
nCircle Tech (inCorporated in 2012) empowers passionate innovators to create impactful 3D visualization software for desktop, mobile, and cloud. Our domain expertise in CAD-BIM customization drives automation with the ability to integrate advanced technologies like AI/ML and VR/AR; empowers our clients to reduce time to market and meet business goals. nCircle has a proven track record of technology consulting and advisory services for the AEC and Manufacturing industry across the globe. Our team of dedicated engineers, partner ecosystem, and industry veterans are on a mission to redefine how you design and visualize. For more information, please reach out to our team at info@ncircletech.com. We will be happy to answer any questions you may have on 3D printing and design automation.
Author: nCircle Tech.
Trackbacks/Pingbacks