How Scan To BIM Aids Remodeling
The global impact of the pandemic has been staggering for the construction industry witnessing an adverse impact on demand. Based on Fortune Business Insight analysis, the global BIM market has exhibited a lower growth rate of 9.9% in 2020 compared to the year-on-year growth rate from 2016 to 2019.
However, expenditure related to remodeling is experiencing an upward surge, which isn't going to slow down any time soon. The remodeling market in the USA is expected to reach 510 billion USD by 2024.
BIM leaders are predicting BIM market size to reach 8.8 billion USD by 2025. This growth can be associated with an upsurge in the demand for sustainable urbanization.
Why Scan-To-BIM To Be Introduced in a Remodeling Project?
When it comes to Remodeling projects, or where a project involves a pre-existing structure, creating an as-built model can make a lot of difference by cutting down on the project time and cost. This is where Scan-to-BIM comes into play. Scan-to-BIM is the process of digitally getting laser scanned data, which can be used in the creation, extension, and preservation of a BIM model.
Uses of Scan-to-BIM for Renovation Work
Major difficulties faced while working in a renovation project include cost and time overruns, waste of resources, unintentional damage to the existing structure, especially when the structure has complicated architecture.
With a Scan-to-BIM Revit model, it becomes a lot easier to find probable clashes between trades along with hundreds of other potential troubles, which makes it easier for architects to revise the renovation plan before the construction process begins.
Using Lidar scanners or laser scanning technology, AEC professionals can adapt to a Scan-to-BIM workflow with less work. Scan-to-BIM uses 3D laser scanners to build exact point cloud datasets, operating at a pace feasible for the job.
Let's Break Down Traditional Scan-To-BIM Challenges
The process of Scan-to-BIM sounds quite an easy process. Take one structure, lasers scan millions of points in minutes, and create a 'point cloud' data set. Now, importing that data into a BIM tool will automatically identify objects and spaces and you get a smart model. Unfortunately, scan data to BIM is not yet that simple.
It's undeniable that the scan to BIM process makes it possible to have fewer mistakes when planning restorations or extensions for buildings that don't have any existing digital structural and design documentation. With implementing the Scan-to-BIM process reliable floor plans in a standardized setup are now easier to get. Also, facility managers of existing properties can reap the benefits of performance improvements that traditional Scan-to-BIM delivers. However, many modelers experience some hiccups in the process of updating BIM models from scan data mainly in renovation projects. Here are the most obvious challenges a laser-scanning professional may experience while updating models along with some suggestions for resolving them.
Scan to BIM, a lot Manual Intervention is required
Scan to BIM process still needs manual intervention and is more of an art than a science. Most design tools including Revit are targeted at designing new structures, when it comes to the renovation process, it is difficult to use Revit for existing structures.
Lasers can easily generate over 6GB of data. On larger old construction projects, like when working on renovation works for old structures like museums, churches the scanned data can be as large as 20GB. It becomes quite impossible to deal with an incredibly large amount of data. To use and manipulate that data to create a BIM model is an extremely time-consuming task.
In traditional Scan to BIM workflow, a lot of manual intervention is needed which isn't a fitting situation when a faster output is required. Our ML-based Scan to BIM solution can cut down on the production time by encouraging faster BIM model creation from point cloud data.
Limited accessibility to the site for daily scans
Where access to the construction site is restricted, usually it will be difficult to take regular scans and measurements to update an existing model. It could be an occupied construction site, where site workers are hard at work and cannot allow interruption caused by scanning. The chance to have an unobstructed space and work on a proper scan is especially slim. A mobile mapping system can drastically cut down on the time needed to capture scan data. And for the faster Scan to BIM process, it's always a smart thing to incorporate machine learning with Scan to BIM. That is what we do at nCircle Tech.
It's Problematic to Deal with too much data
A renovation project evolves in complexity with the amount of data accumulated over time. When refreshing a BIM model of an existing structure, the best workflow would be able to immediately sort and classify incoming data and merge information from various sources. Now, this process is very slow and cumbersome. Introducing Machine learning with Scan to BIM workflow can help with inspecting scanned data to locate any precise section of the scan that requires extraction. So the whole process of the Scan to BIM becomes a lot faster.
The Future is ML- Powered Scan-to-BIM
Think about this, What if the standard Scan-to-BIM process could be automated and made to work smarter? Thanks to Artificial Intelligence and Machine Learning, accomplishing smart Scan-to-BIM conversion is now possible!
Artificial Intelligence and Machine Learning in brief…
AI is a technology that enables software to mimic human behavior. ML indicates the software's capacity to devise decision-making over time, mimicking human cognitive capacities. Artificial Intelligence is multidisciplinary of which MI is a subset.
How Do AI And ML Improve The Scan-To-BIM Process?
The process gathers a large amount of point cloud data during 3D laser scanning using Lidar scanners. Classifying and identifying the relevant data amongst this mountainous dataset requires highly proficient experts. AI, in this case, can be used to automate the means of Segregating BIM Entities considerably faster. Not only does this facilitate the Segmentation process; but it also reduces the likelihood of human errors.
nCircle Tech Offers ML Based Scan-to-BIM Solutions (currently as Managed service)
nCircle Tech is developing an ML-based Scan-to-BIM workflow, which automates the Scan-to-BIM process from Point cloud Segmentation to automation in modeling .
Machine Learning Scan-to-BIM Process Workflow
Input Point Cloud Data:

nCircle Tech's

machine learning Scan-to-BIM

process

starts with getting the already generated point cloud data from our clients.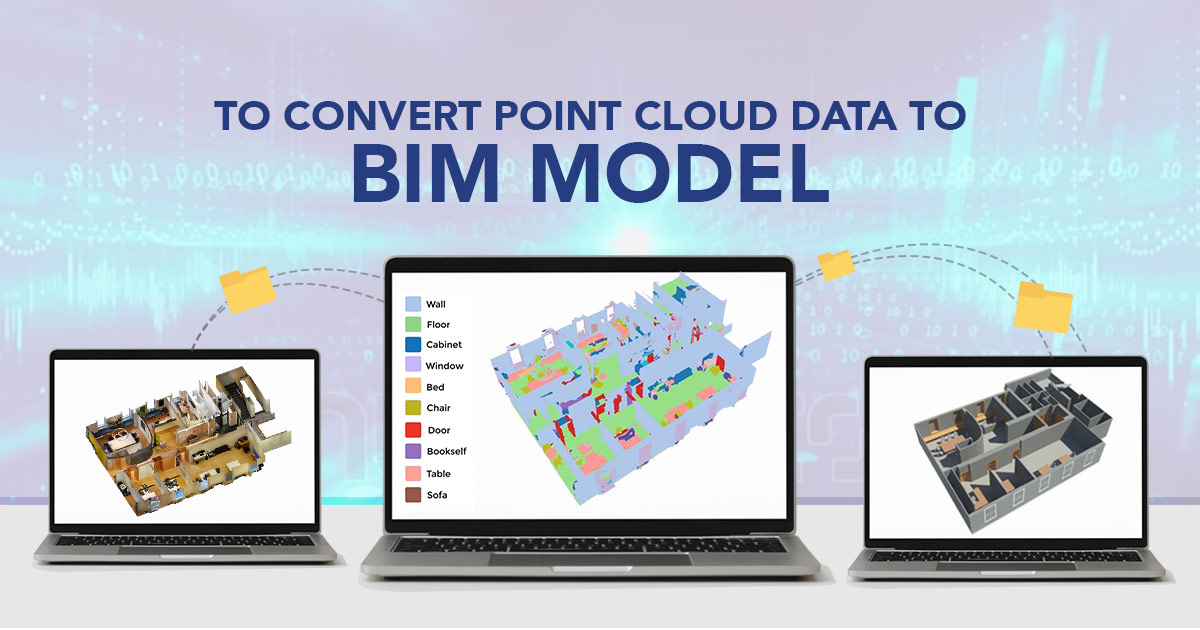 Objects Get Classified:

Objects get classified with different color codes with the help of smart

machine learning Scan-to-BIM

algorithm.

Automatic BIM Model Generation

: BIM Model generation requiring less human involvement.
What Makes nCircle Tech's Machine Learning Scan-to-BIM Unique?
ML Powered Scan-to-BIM process saves up to 50% of the construction time and allows faster Scan-to-BIM Revit modeling. Unique features of nCircle Tech's ML-powered Scan-to-BIM application:
Our ML based Scan-to-BIM application helps build as-built BIM Models for renovation projects. The Machine Learning Scan-to-BIM framework allows you to follow the usual workflow while reducing the cognitive load needed for accurate visualization.
Still, wondering, why should you be leveraging nCircle Tech's ML-powered Scan-to-BIM Service? Here is why!
AI-assisted Labeling:

Our

ML engine is trained with 800+ GB point cloud data.

Highly scalable:

Our cloud-based service provides scalable processing with consistent performance

Automated Learning Algorithm:

AI Engine that can improve its function from the past data

Secure Data Approach:

With a security-first approach, you will never lose the data

Consistent performance:

Our

ML-powered Scan-to-BIM

workflow delivers uniform output every time.

Input / Output formats:

Accept inputs in e57 or las. And delivers output in Revit, AutoCAD, or IFC Format
Why is Working with nCircle ScantoBIM (ML-powered) Service a Smarter Thing to Do?
Quicker turnaround time for we use an ML-based algorithm to extract features from Point cloud data

Training ML Engine will help in long time to reduce the turnaround time and be competitive in Market

Modeling with ML-based Segmented entities can help in faster modeling
Wrapping Up:
The merger of Scan-to-BIM with AI/ML is exceptional and is assumed to see a wide array of industrial applications in the coming years. The progress in the existing applications has come a long way. However, there are way more potentials waiting to be unleashed. We are living in an age where technology proves that everything is plausible! You never know what's next! Don't Fall Behind your competitors, Talk to our experts and implement ML-powered Scan to BIM in your next project!
Trackbacks/Pingbacks