How Automatic BIM Standards Implementations can save your Efficiency Overheads?
Building Information Modelling (BIM) has been the dominant digital paradigm in the Architecture, Engineering, and Construction (AEC) sector over the past decade. Indeed, companies have focussed on BIM to such an extent that it could be argued that today the term acts as a synonym for any Information Technology advance employed in some AEC fields.BIM has become important digital assets that are not only key instruments in communicating design but also in obtaining approval from statutory bodies. The manual checking of building designs for compliance against national codes and certain defined standards is complex and prone to human errors resulting in significant cost implications.
We all know how important these model checks, BIM standards checks, and code compliance checks are with common benefits – reduced iteration time, increased efficiency, and better collaboration; all of that combined, you end up with more money in your pockets.
In spite of all these benefits, we all struggle with its implementation given its overhead that can easily consume your time, efficiency and further break your process. But, what if I told you that we can make it easier for you and your workforce by automatically checking your designs for all the necessary BIM standards.
I believe in changing the process rather than changing the culture that people follow, hence, we made it possible to process all BIM standard checks that happen automatically without any manual to and fro checks.
But, how do we use automation to implement BIM Standards? Before, we could dwell more on the idea of automated compliance against industry-defined BIM standards. Let's take a look at the industry defined BIM standard that one needs to follow in the designs.
British Standards Institution published the final version of BS EN ISO 19650 standards in January 2019 which has been primarily followed in today's BIM designs and are well known as the benchmark BIM standards. The ISO 19650 standards look over the organization and digitization of information about buildings and civil engineering works, including building information modelling (BIM) and information management using BIM.
The 2019 published version of ISO 19650 contains two parts,
ISO 19650 Part 1 outlines the concepts and principles along with recommendations for managing the building information.

ISO 19650 Part 2 highlights the information management requirement in the delivery phase of the various building assets.
These standards apply to the whole life cycle of built assets, including strategic planning, initial design, engineering, development, documentation and construction, day-to-day operation, maintenance, refurbishment, repair, and end-of-life.
According to the ISO, these standards provide the necessary framework to help designers and contractors from different countries collaborate more efficiently on all phases of construction projects and will encourage BIM's wider use. These standards can elevate collaborative working to help users save up to 22% in construction costs and further allows designers and contractors working on all kinds of building works to have clearer and more efficient information management.
How AEC companies are Implementing BIM Standards?
Let's take a look at how many companies are following and implementing BIM standards in their construction projects? A survey conducted by nCircle Tech showed that a staggering 87.5% of AEC organizations noted that their BIM Standards Checking process framework needed improvement. Out of which, about 25% of organizations said that they needed significant advancements to comply with BIM standards.

The survey also revealed that 51% of these organizations are still relying on manual checking leaving a lot of room for errors, efficiency gaps, and forming a tedious environment to implement crucial Standards checks.

The survey revealed that manual standard checks and regular compliance inspections further resulted in wastage of time, money, and manpower with almost 76% of the workforce spending 1-5 hours/week on model rule checking through the manual process. Can you believe these numbers??? If we are able to save at least 3 hours per week, we will be saving around 160 hours a year for a BIM Manager. That's around 20 days of saving.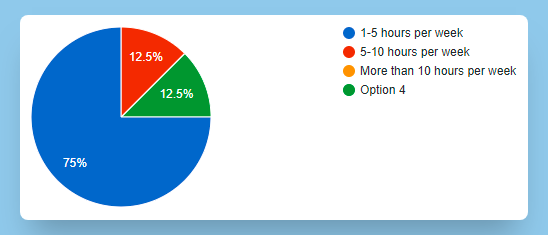 ework, improves collaborations and all of that means more money in your pockets. However, as BIM managers are spending enormous amounts of hours manually checking BIM standards for the proper implementation throughout the BIM Models, this overhead time consumption can be easily avoided using the automatic model rule checker. Hence, automation of the standards checking and compliance process is the future for the AEC sector that leverages industry defined BIM standards to automatically ensure all standard checks, regulations adoption, and compliance validations throughout the BIM framework.
Taking this one notch above, we have automated the process of checking BIM standards in the building design within BIM360 software. This solution enables you to perform automatic rule checks in the building design each time the building design file is either uploaded or modified in BIM360. This happens automatically without dependency on manual checking and human expertise to provide on-time checks without any overheads and manual interventions. Once these checks are done, a summary of the check results is automatically sent over email which can be further used to resolve system raise compliance or standards issues.
How our automated rule checker functions?
It checks all of the uploaded/modified building models against the industry defined rules, regulations, and compliance models.

Any mismatch or violations of these standards are visually listed down using the three-dimensional view ensuring all concerned stakeholders are communicated to take further possible corrective measures.
The automated trigger reduces the analysing cost and circumvents delays in a project without any manual interventions. Thus, increasing the profits for you and your clients.
The Autodesk BIM interoperability tools, which includes the Model Checker for Revit software, has become the industry standard in reviewing Revit models. However, as we envision stitching the entire BIM industry using our BIM Connections platform by building every possible connection between various BIM software. Built on Forge, our model checker can review all of the patterns and generate reports on their compliance with the predefined checks. Whether you pass/fail, count, or list, you can view the check reports individually and put them into the MS powered BI dashboard. The model checker on Forge allows multiple selection models, defines any kind of schedule, and automatically runs it on Autodesk cloud.
Now the most important question is how can our Automatic Rule Checker implement the above standards into your project Automatically?
Our solution seamlessly interpolates among different stakeholders in different project phases, thus simplifying work processes with a cloud platform called BIM connections wherein users can set up the trigger and action.

The triggers and actions are stored at the backend followed by the creation of an app for BIM 360, which listens to the BIM 360 webhooks.

Whenever the event is triggered, action will be called automatically to run the model checker in Revit Design automation via Forge.

It will further trigger respective notification emails and uploads results in BIM360.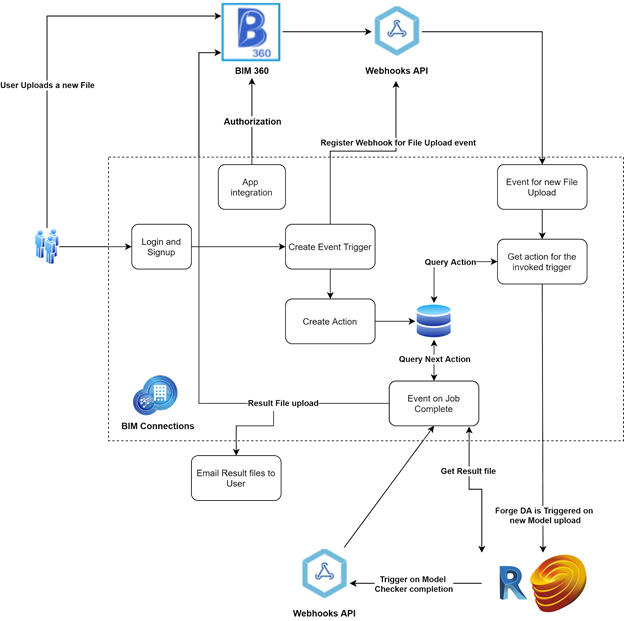 The process flow explains how easy it could be to do model checks automatically with an innovative workflow and these checks happen automatically once the model is uploaded into the system. Some of the most significant highlights of automating rule checkers in BIM standards cover:
The ability to instantly get the model checked every time and any time. The capacity to perform checks on the properties and geometry of the model.

The ability to check the standards at Design level itself.

The ability to reflect the results in 3D.

The Ability to correct the model immediately instantly every time before sharing with other stakeholders to avoid iterations.
Our automated BIM standards check helps you discover innovative workflows for automatic BIM standard checking, understand how BIM standards compliance can be performed via a set of computer programs instead of manual checking, and learn to collaborate better across disciplines and roles, including design professionals, MEP engineers, and others.
Summary
We often stop looking at those things that really grind us because we are busy looking towards getting through and past the grind. But if you have the capacity to recognize the grind from the outside and its imperfections and then change them to better yourself, then that's what really evolving and revolutionizing is. And at times, a moment is all it takes to realize, "Oh! We have been doing all this for so long in such a lengthy manner. This definitely needs to change". I hope I have created that Eureka moment for you here.
Authored by: Varun Bhartiya
Varun is the 'Chief Storyteller' at nCircle. In 2012, he incorporated nCircle Tech with a mission to create an impact in the 3D Visualization software industry by developing cutting-edge solutions and providing delightful service to passionate innovators of the industry. With a superlative team by his side, Varun has been casting magic spells by delivering extraordinary and impactful applications to clients globally. He firmly believes in setting processes and driving organisation systematically. His genius is in the simplicity he brings to his work and the ease with which he is able to decipher the most complex engineering challenges. He is extremely passionate about design, technology but above all, people. His mercurial personality has contributed significantly to forming 'circles of trust' with our clients, partners, and employees.
Connect with Varun on LinkedIn.